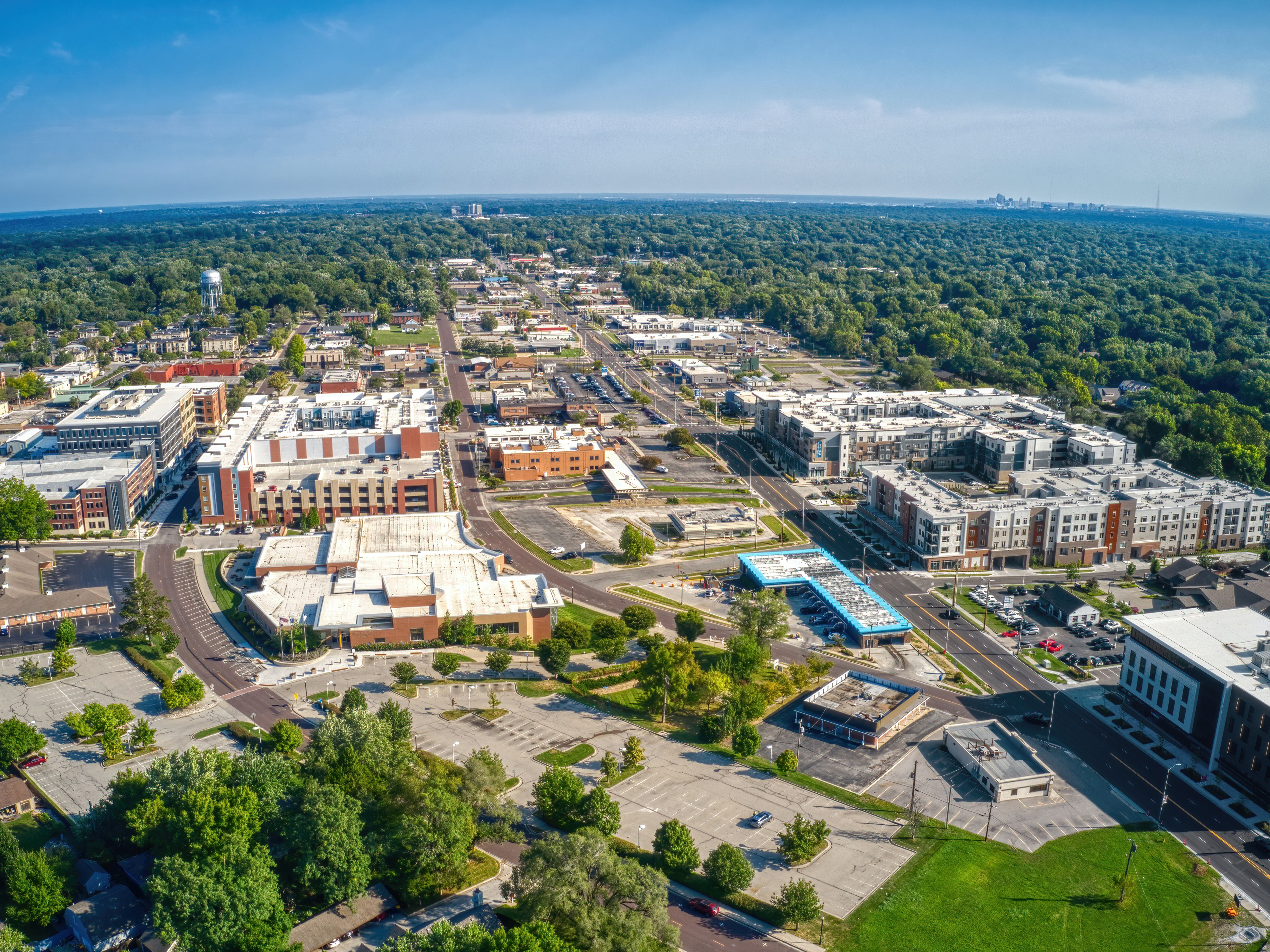 Welcome to Overland Park, KS
Overland Park is located in northeastern Kansas at the junction of Interstate 435 and U.S. Route 69 immediately east of Olathe, the county seat. The city center is roughly 13 miles south-southwest of downtown Kansas City, Missouri. According to the United States Census Bureau, the city has a total area of 75.37 square miles of which 74.84 square miles is land and 0.53 square mile is water. Most of Overland Park, specifically the part of it lying north of 159th Street, lies within the area of Johnson County referred to as Shawnee Mission.
As a suburb of Kansas City, Missouri, Overland Park is part of the Kansas City metropolitan area, and it borders other communities on all sides. These include Kansas City, Kansas, to the north, Mission and Prairie Village to the northeast, Leawood to the east, Stilwell to the south, Olathe and Lenexa to the west, and Shawnee and Merriam to the northwest.
The city lies on the northern edge of the Osage Plains a few miles south of the Kansas River. One of the river's tributaries, Turkey Creek, flows northeast through the extreme northern part of the city. South of Turkey Creek, the majority of the city lies in the watershed of the Blue River. Several of the river's tributaries run east-northeast across the city; from north to south, these include Indian Creek, Tomahawk Creek, and Negro Creek. In the far southern part of the city, two more tributaries, Coffee Creek and Wolf Creek, join to form the main stem of the Blue River itself.
Buying a Overland Park, KS Home?
If you are a Overland Park, KS home buyer, our foremost goal is to provide you with exceptional customer service. Our goals are to help you purchase the right home, make sure you don't miss out on any homes that meet your needs, and make sure you don't pay too much for your next home. Please utilize our Overland Park, Kansas real estate expertise to make your home search and buying experience as stress free and rewarding for you and your family as possible.
Selling Your Overland Park, KS Home?
If you're considering selling your Overland Park, Kansas home, we utilize the latest, cutting-edge, real estate marketing tools to expose your property to the widest range of potential buyers. We are here to get your house aggressively marketed to sell as quickly as possible and for the best price! Our goals are to help you get your Overland Park, KS home sold, put you in the strongest negotiating position as possible, and to make it easier for you and reduce surprises.
New Overland Park, KS Properties